General Policy about renting our bikes :
You will need ID and a refundable deposit (See table beneath). The deposit cannot be used to pay a prolongation rental on your biking equipment. The rentals are paid for at the start and rental contracts cannot be re-imbursed.
Health & Safety :
Multi-bikes rents bikes that are "conform to security norms". Multi-bikes rents mounted and serviced equipment (brakes, seat hieight…) Multi-bikes, during each rental will give you some verbal instructions. Multi-bike reminds you that it is forbidden to modify rented equipment, to undergo important repair independantly, to sub rent ones' cycle, to bike on the beach, to transport a passenger other than a young child as long as the proper seat has been put in place beforehand. Multi-bikes has child seats and protection helmets conform to current health and safety regulations. Multi-bikes informs you that you must respect the highway code.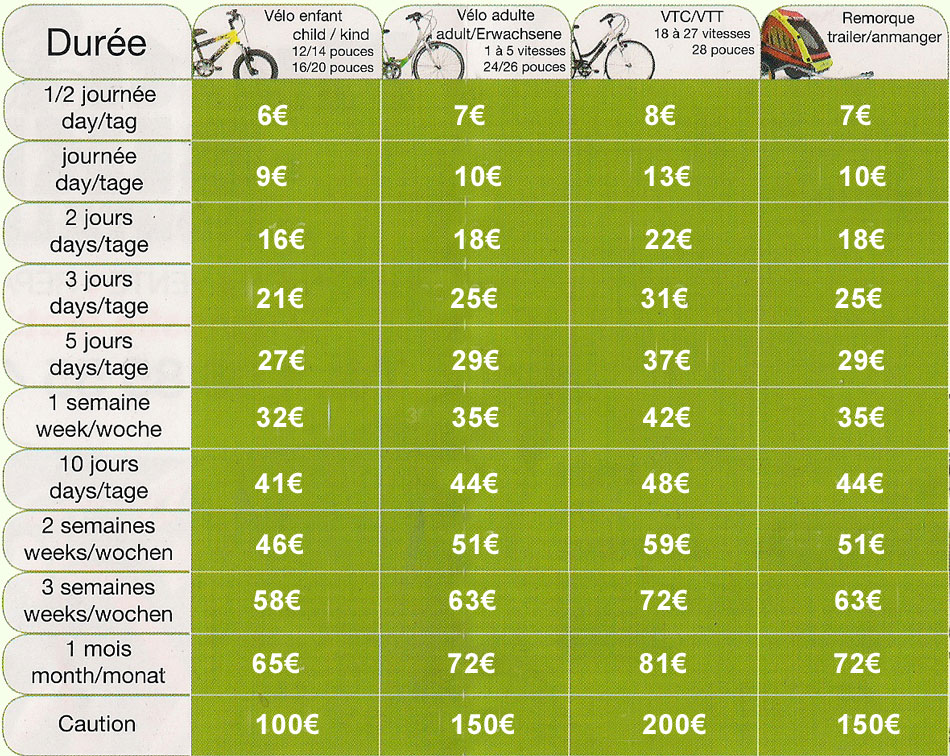 Casque et siège enfant : 1 euros /jour – anti-vol et nécessaire de réparation fournis
- Family and group discounts : From 5 bikes only, please enquire
DEPOSIT AND ID REQUIRED
we ALSO SELL…
- Spare parts,
- repair,
- resell : Gitane, Bianchi, Définitive, Arcade, Whistle, ZK1, Atala…
- Customer Service